Συνδέστε τον λογαριασμό σας
Απάντηση
2 δημοσιεύσεις • Σελίδα 1 από 1
Δημοσιεύσεις: 10510
Εγγραφή: Σάβ 30 Δεκ 2017, 20:09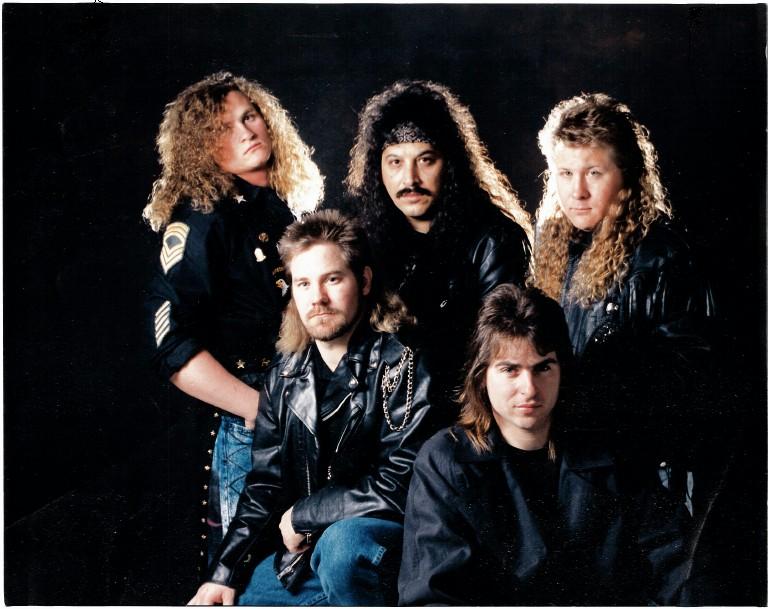 Thunderchild (TX, US) - The King (CD)
The story behind Thunderchild from Arlington, Texas, USA, actually starts -under a different name- back in the year 1987.
Yes, we are back in the 80s, on an era when the White Metal movement was in its high peak in the United States of America. Back on the day, there were many examples of bands and artists in various musical styles spreading the Christian religious message through their music and as expected this concept found its way into the market. Bands were there to play and people were there to listen, labels specialized in artists and bands carrying the Christian message, have started to grow bigger, new bands and artists under the same concept were forming in almost daily basis. We even had the Church financing such efforts paying every single expense of a band or an artist that wanted to produce, record and play live music carrying the Christian message. White Metal movement became very popular during this very specific era and we have many examples of bands that managed to be the next big thing under the Christian metal flag.
Under this background R.O.C.K. begun their career back in 1987 in Arlington, Texas USA. The band started as a four piece with guitarist Tony Larussa doing the vocals as well. Five years later -in 1992-, R.O.C.K. would evolve to a five piece band with the addition of Mike Foster on the vocals slot. Back on the day, the band's line up, was consisting of Fred Garza on guitar and vocals, Ken Kelly on bass, Barry Zeller on drums and of course Tony Larussa on guitar and Mike Foster on vocals.
We are still in 1992 and the band enters Patrick Mcguires studios to begin the recordings of the material that would later complete their "The King" CD, four tracks were recorded back then. The recordings would go on in 1993 when the band completes four more tracks. All this material -which is actually a total recording session of just 16 hours (!) -is included in "The King" CD. On this second round of recording there would be a small line up change as Brian Larussa -Tony's brother- would join the band on bass, in order to finish out the CD. Brian remained the band's bass player till the end of their saga, on 2004 / 2005.
Perhaps someone may already wonder what style of music have Thunderchild delivered thought this particular release and I am here to answer: Well Bring into your mind an amazing mixture of Sacred Warrior, Recon, Barren Cross and Seventh Seal, under the flag of melodic Heavy Power metal, and you would have a first general idea on the band's style, but you know what? Thunderchild were even better!.
You just have to listen the amazingly sounding double guitar parts of Larusso / Garza that complete the actual basis of each and every song. You just have to listen to the excellent vocal melodies of Mike Foster and you would surely understand that this vocalist cannot be described just with the simple term of "good singer". It is not only the specific vocal lines that he uses in each and every song transforming it into a real musical jewel, it is the WAY he sings those melodies and yes he follows the Tate's path and yes this is a positive comment!
If you take a more careful listen to the songs of this release you would be able to discover even more interesting things dealing with the song writing, the technical performing abilities and the further musical influences of this band. For example there would be many times that you would discover a serious Queensryche influence especially in the most mid tempo parts of Thunderchild's music (have I already mentioned Tat as vocal influence?). But the band is not copying anyone, they manage to make a perfect balancing between their influences and their own musical sign offering a unique result.
To my ears "The King" is already a classic and I would put it next to monster Christian Metal releases. And you know what ? It sounds even better. I would not choose any specific song in the album because all the 8 tracks in here are masterpieces. If you are looking for high class amazingly inspired and extremely well performed melodic heavy power metal on a 90s vibe, blessed by one of the most amazing voices that you are able to listen around, then GO AND CHECK THE MUSIC INCLUDED IN THIS CLASSIC right here right now! Metal is the music made for heaven, and Thunderchild were simply proving it.
Listen here:
http://kingdomcrier.bizland.com/id8.html
Ο παλιμπαιδισμός των νεώτερων μπαντών "είμαστε τόσο εκτός σκηνής αλλά ηχογραφούμε για την Metal Blade" μόνο underground δεν είναι. - Zippo190 - Forgotten Scroll Forum - 2018
Τι πιο ωραιο απο το να ανακαλυπτεις χαμένα διαμαντια σαν και αυτό!!!
Ευτυχώς ειναι ανεξαντλητα!
Queensrychικό us (white) metal επος!
Απάντηση
2 δημοσιεύσεις • Σελίδα 1 από 1